Boogie Is Obsessed With The Backdoor
Greetings my loyal minions, Maxx Fisher here,
I made the focus of my last article Danielle's insanity. It seems that I should have save it for this week. She is nuts and only the tip of the iceberg was shown tonight. It's funny and sad at the same time. Danielle thinks she's a fan favorite. The thing is, she thinks she's a fan favorite. She see's herself as another Jordan. That is not, not the case. She is one of the least popular people still in the house. And now she's getting rid of a fan favorite. That will work out for her, but more on that later.
It Is Always All About Me
Boogie is an egotistical douche bag. He thinks that the nominations are a tactic to backdoor him. He said backdoor so much this episode I'm starting to believe the online rumors. Remember how Wil was so mad at Daniele for putting him up after promising to keep him safe? Well that passed after the 2 of them went into the HOH and cried. I have no idea if Wil actually forgave her, but that is what they made it seem like. Boogie and Frank are just seething about the nominations. They don't seem to understand why the rest of the Hamsters aren't helping them win. They decide that if they get out of this there focus is going to be on Dan, Danielle & Janelle.
Dan & Janelle chat about Boogie. Neither of them can understand why he is so fixated on Frank. It because Boogie cannot play the game by himself. He has never played the game alone and has no ability to do it. Plus, as Janelle stated, he doesn't work with women. He also apparently doesn't work with lesbians and geeks because no matter what he says he did not Coach Jenn or Ian. He is all about Frank, unless he's talking to Dan, because Boogie said he'd like to be next to Dan at the end because it would be good TV. That's one of the things I hate about Boogie, he thinks it's his job to come up with good TV and when he does I want to vomit.
5 Strikes & You're Out
Time for the Veto picks. Boogie is really hoping that he gets picked because if he doesn't their plan to backdoor him will work. Did you know this is all an elaborate set up to get Boogie out? Danielle picks Shane, Frank picks Jenn & Wil picks Ian. Poor Boogie, the backdoor is in his future. The Veto is a baseball themed skee-ball game. There would be 5 rounds, the loser of each round is out and picks a box with a prize. If someone comes after you they can take your prize.
Round 1: Shane out, picks The Veto,
Round 2: Wil out, picks Veto Ticket, takes the Veto from Shane,
Round 3: Jenn out, Maui vacation
Round 4: Ian out. He has to live a Dog's life for 24 hours. Wears a dog costume, lives in a dog house, can only leave if someone walks him on a leash. He keeps it and Boogie cannot believe it. Ian said got $3000, no need to be greedy
Round 5: Frank out, Danielle is the Winner. Frank gets $5000. He takes the veto from Wil. So Wil is $5000 richer
Daniele gets the Spiri-tard. It is a unitard that has to be worn for a week. She takes the Veto, so Frank has to wear the Spiri-tard.
I'm Not Getting Special Treatment, I Swear
So Ian comes out in his Dog costume and loves it. He's having a blast being in the house and he is more than willing to take the bad prizes and the have-nots because the others will want to keep him around because he is so nice. Frank hated the Spiri-tard. It had a little skirt and it came with pom-poms. He is actually barely wearing it. He almost always has the top down, he isn't carrying around the pom-poms and he spends most of his time in bed or the pool/hot tub because he can take it off in those places. And for some reason the powers that be have not said a word to him about it. Hmmmmm.
Ian has decided it is time to cut ties with Boogie and get in an alliance. He goes to Dan & Britney to state his case. They both like him and decide to take him in along with Shane & Danielle. They decide to call themselves the Quack Pack. It's lucky for Ian that he now has a solid alliance. Oh that's right, he doesn't.
What Just Happened?
Boogie decides to put in some work and does a full court press to get rid of Janelle because she knows how he plays and she's a woman. He goes to Danielle and he barely gets out that he'd like to get rid of J…, when Danielle blurts out "Janelle". Danielle has this insane problem with her. She thinks that Janelle has something against her. Let me tell you about something that actually happened. In the house they take HOH pictures each week to put online. Janelle said to Danielle, "You look really thin in these pictures".
Danielle told Britney, "Janelle said I look fat in real life". That really, really happened. Janelle didn't help herself when Britney spotted her talking to Frank. Britney, who spent an entire season bashing people behind there backs decided that Janelle is shady and a liar and she needs to be gone, like right now! Dan is stunned because Janelle has been gunning for Frank since week one so why would she suddenly want to work with Frank?
Boogie is working on Dan so hard. He wants Janelle out bad. Dan still wants to keep the Coaches safe to keep a target off of him. Janelle & Britney interrupt an they get into it. Boogie sort of hammers Janelle and tells her that he doesn't trust her. She says that she wants to work with him so Boogie says how about we get Wil out then. She wants Frank out first and Wil the next week. Boogie doesn't like it but he suggests Joe. The episode showed Janelle sort of caught like a deer in the headlights and stunned into silence. IN reality she said "If it has to be Joe then so be it". Janelle left and Britney & Dan were convinced that Janelle was a shady liar so she needs to go.
Pot Meet Kettle
Here is what I don't understand, why is it so bad that Janelle wants to keep her player, but there is no problem with Boogie keeping his? I'm beginning to think that Rachel would have less irrational hate against her is she were in the house. We've got Danielle, Dan, Shane, Britney, Boogie and Frank up in the HOH trying to come up with a name for their 6 PERSON ALLIANCE. They came up with The Silent 6 who had a douchey battle cry of "Shhhhhh". I have to ask Dan, Britney, Shane & Danielle what is the deal with your alliance with Ian, you know, the Quack Pack? It looks like you cut him loose. Wouldn't that make you shady liars?
Time for the Veto ceremony. Danielle takes down Wil and puts up Janelle. She said it was nothing personal. It is nothing but personal. Britney did the worst acting job pretending to be shocked. It was awful. Janelle is going home. There is no way to stop that unless someone pulls a knife in the house and gets booted. But there is a rumor going around. I hear that she might be going to the jury. That there might be a final 3 rather than a final 2 and there will be a 9 person jury. We only have one day to see if that is true. But if it is, I think the people that turned on Janelle won't be happy if they are there at the end. She was betrayed and has a long time to get in the ears of the jury members. Should be interesting.
I leave you with this, my doggies in the window, Danielle said she got rid of one of the biggest players in Big Brother. So you chose to get rid of a 2 time third place finisher instead of getting rid of either of the 2 people that won. Oh I almost forgot another gem that proves Danielle is insane. She said, I swear to God, that she did not want a showmance, Shane pushed it on her. No more needs to be said.
Later Minions
If you would like to be alerted to new Big Brother 14 Articles & Polls you can follow me on Twitter for the latest updates
HERE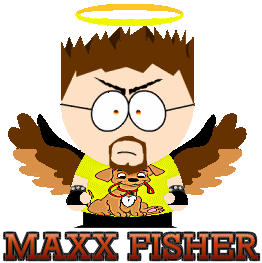 If you've got that burning itching feeling after reading this you can contact me at
Maxx@tvfunspot.com
For More Big Brother 14 News visit:
SirLinksalot: Big Brother 14