You Just Had To Have A (Psychotic) Hantz On Your Show Didnít You?
Greetings my loyal minions, Maxx Fisher here,
Sometimes writing these articles is a real pain. I canít get inspired and I put it off. Do other things online. Just generally goof off until it is time to just hunker down and do it. Not tonight. I am going to have no problem recapping this. Itíll just be hard not to jump ahead to the end. If only I can keep my temper in check.
The Tears Of A Clown
Willie was in no way, no way happy that Frank won the HOH.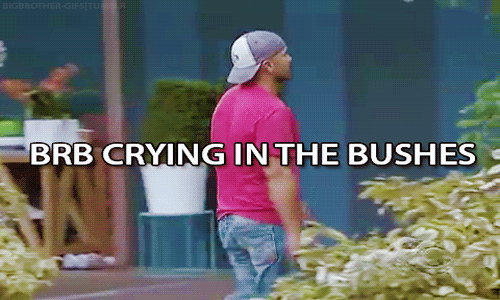 Janelle is happy because she believes that Frank & Willie will go after each other. Ashley let us know that she voted out Kara because the Playmate was going to coast under the radar to the end. Ashley doesnít have a problem with this Strategy. Kara just had to go because Ashley plans on using that particular plan. I have to hand it to Dan, he is not lacking in confidence. He only has one player left but he is pretty sure he can still win with just one. I would agree with him except his one player is Danielle who is coached to get closer to Janelle.
Oh yeah, did I mention that I want Frank & Boogie dead? No? Well I do. You see they are doing the Chilltown double Diary Room sessions. I hope that death isnít painful. Boogie pointed out that the votes were not Kara vs. Frank, it was the house vs. Willie. And that was the theme of the entire night.
Britney literally spent the entire episode blaming Willie for all the problems of her team. Yes it was all his fault. He knows that. Brtiney knows that. Everyone knows that. Did she need to ride him for the entire episode which encompassed less than a day in the house? Yes she did. I donít like Willie. I donít like the Hantz family. They all seem to think that they are Godís gift everyone else and are somehow entitled to everything going their way. So were people in the house pouring salt in his wounds? Yes. Do I have a problem with it? No. He is a grown up and he can handle grown up problems. Or not, weíll see.
Jojo and Shane are on the Hate Willie Train too. I can understand it. He has effectively torpedoed their game just because they are his teammates. Shane I can understand. Jojo is another story. It seems Jojo was into Willie before all of this. She slept upstairs in his HOH bed, with him, almost every night. So is she someone that was just playing him or was she into him and then she dropped him when things werenít going her way? She was totally kissing up to Frank & throwing Willie under the bus. She thinks she can wrap Frank around her little finger, you know cause sheís from New York.
Frank gets his HOH room and Willie reluctantly goes up. He is also the first one that leaves. Ian comments in the DR about the tension with Willie. If Ian can recognize it then you know it is thick in the air. Britney talks with Willie and spends the entire time making it about herself and just berating Willie for screwing his team. He points out that this is a game for individuals and asks why she canít forgive him. She says that itís only been 24 hours, but I think after 24 months she still wouldnít forgive him. Willie seems resigned to be the one to go home. But he hasnít been nominated yet, the Coachís safety power hasnít been played for yet and they havenít had the POV competition, yet Willie seems resigned to go home. The Hantzís arenít really known for their forward thinking.
I'm As Dumb As You Think I Am
Dan, Boogie and Brit are up in the HOH room just hanging when they start discussing the power this week for the winning coach to trade one of their players. Britney talks about trading Willie. Boogie basically lays it out for her that no matter what happens, one of her players (at least) is going home this week. If she wins and trades Willie, then Shane will go home because he is a physical threat. Brit knows what heís doing and she tells us sheís tired of Boogie treating her like sheís an idiot. Maybe she should stop acting like an idiot.
Letís have a romance interlude. Danielle is totally into Shane. She wants to have pukashell wearing babies. Shaneís DR session made it seem like he was into her too, but heís not.
Boogie tells Ian he has to start acting more human. He decides to ask Ashley out on a date. In the DR Boogie almost makes it seem like it was his idea, but it was really Dan & Janelle that pushed it. Ian asks, Ashley accepts and they go on their date in the Arcade Room. Ian comments on how beautiful she looks (nice move). I actually watched some of this on the feeds. This all happened last week because Kara was still in the house. Before the date, while she was getting ready, Ashley said she had butterflies in her stomach. She has a place in her heart for nerds. They spent about 2 hours behind closed doors talking. There was a lot of game talk. It was actually brilliant. They were alone, behind closed doors and talked game for 2 hours and no one was suspicious at all.
You Can't Win This
Itís time for the Coachís Competition. It is 90s Hip Hop themed and host Frank looks like an Hip Hop Carrot Top. The Coaches come out wearing Hammer pants. There is some sort of rod between the knees (get your minds out of the gutter) that keeps their legs apart so they are forced to walk sideways. The game has each Coach carrying bricks of cash across a balance beam and stacking them on a small pedestal, Jenga style. They can only carry one brick at a time, if they drop money they are out and is they fall off the beam then they are out.
Brit takes the lead fast with Boogie & Janelle following not close behind. Dan plans on throwing this challenge too. He wants him & Danielle to appear weak. Britney is doing great but she gets a little too excited and knocks over 2 bricks of cash. She was out. Boogie and Janelle are neck & neck with Boogie ahead of her by about 2 bricks. Boogie is about to win but for some reason he steps off the balance beam right before he is about to win and he is out. No one can believe it. He is an idiot. Why is he an idiot? Because he stepped off so he could show off his win, he wanted to ďput some mustard on itĒ in his words. Everyone was astounded. So Janelle ended up winning. They never even showed Danís progress.
With this win Janelle had to option of either trading one of her players for another or giving one of her players safety. She chose to make Ashley safe. She also got to pick the 4 Have Nots for the week. She picks all of Britneyís team, Jojo, Shane & Willie and Ian volunteered to be the fourth but for some reason they chose not to show Ian volunteering. America did give the Have Nots Pudding & Pork Rinds. Jojo hates it because no one it New York eats those. Did you all know she was from New York? Ian thinks itís great because everyone loves pudding. Jojo also thinks that Janelle is a bitch for putting Shane on slop for a second week in a row.
Team Britney at this point cuts all ties with Willie. They basically tell him they canít have anything to do with him because they have to save their own game. Britney tells Willie to calm down and relax. She accuses him of trying to take them all down and if he wants to do that then he might as well go up to the HOH room and go for it. Which is just what he does. Running, huffing and puffing like a mad man. Why does Britney keep opening her mouth around the bear with a shotgun? He runs in and tells them to not blame is team, itís all his fault and heíll be evicted before he goes out that door. What the hell does that last part mean?
Here Comes The Boom
This was the beginning of the end. Willie is ready to blow. He is pacing around just looking for an excuse. He starts swearing at people and calling them names. He says something to Joe as he passes him to go to the bathroom. Joes says something, I think ďYou coming at me? You coming at me?Ē and Willie BLOWS. He charges into the bathroom and Joe raises his arms, ready to fight back. Willie taunts him and they start screaming at each other. Poor Ian is in the bathroom in a towel trying to calm things down. Everyone hears the commotion and comes running On the show it shows Willie kind of shoving Joe with his shoulder, but there was more to it than that. Willie head butted Joe, at least 3 times. He also kicked the Have Not room door.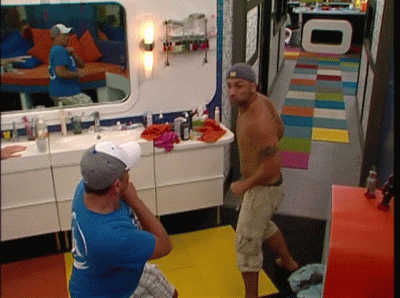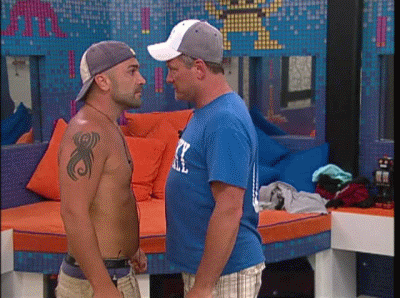 A voice from above told Willie to go to the back bedroom. With everyone gathered people who saw were recounting what happened. No one had any doubt about what Willie did. The heavenly voice told Willie to go to the DR. Once inside he was taken out of that room much like Chima was in Big Brother 11. Allison Grodnerís voice called the Houseguests into the living room and told them that Willie was expelled and would not becoming back.
I want to say a few things. First off the casting people of this show are morons. Why was a Hantz cast on this show? Was this the result you were looking for? Willie seemed unstable from the moment the feeds came on after the premiere. He was delusional, self entitled and obviously had a hair trigger temper. Before the show started he was arrested for assaulting an ex-girlfriendís current boyfriend. This is a fact. He was cast on name recognition and no matter what kind of nut job he was, they wanted him. Well congratulations.
He Brought It On Himself
There are those out there saying that Willie was taunted into doing this. I would like to point out that Willie is a grown man. Despite how short he appears, he is still an adult. Things were not going his way, he threw a tantrum and when people were not intimidated by him he became violent. That is not a man. That is a child that should be treated like a child. I have no sympathy for him and his classless actions will go down in the history of Big Brother. Bravo Willie. Bravo.
They Brought It On Themselves
I leave you with this, my inorganic chemists, does Britney have a chance of saving her team? Does Britney have a chance of not being the worst coach this season? Do you think Russell is still gloating that he is the best Hantz when it comes to reality TV? Is there any chance that Ian mixed his pork rinds with his pudding. Be sure to leave me nice comments. If you taunt me, you just donít know what Iíll do. You might get a head butt.
Later Minions
If you would like to be alerted to new Big Brother 14 Articles & Polls you can follow me on Twitter for the latest updates
HERE
If you've got that burning itching feeling after reading this you can contact me at
Maxx@tvfunspot.com
For More Big Brother 14 News visit:
SirLinksalot: Big Brother 14