"I didn't know this was all going to be about me." Quoth Kat, complaining about Probst bringing the conversation at TC repeatedly around to her questionable decision making and behaviour. I'm not sure why she was griping though. Surely she came on the show like so many before her, just to get her face on tv? And here she was, with not just tribal council, but really, the whole episode focused on her. I mean, sure, she came off as an idiot. But I don't recall a single moment of the season where she hasn't seemed like an idiot. If she only wanted non-idiot moments shown, then she would have gotten very little airtime. As I said, the show revolved pretty much around Kat this week, so a quick recap of her idiotic moments also give a good idea of what happened in the game in general.
Kat kicked things off at the loved ones reward challenge by crawling on all fours to greet her cousin, then shreiking and jib-jabbering at him. That was weird. But not quite as weird as the creepily close relationship they seem to share. I know I'm not the only one to have noticed and been slightly unnerved by that. Anyway, she went on to win that challenge, which isn't completely stupid, its just the picks she makes to accompany her on the reward that is. She chooses Kim and Alicia (everyone else was favouring Tarzan so he could spend time with his wife and Christina whose father, recovering from a kidney transplant, was there). But even if she didn't pick them, would it kill her to pick someone else for a strategic reason? Oh, that's right she did have a strategic reason which she gave " I want to hang out and have fun with these girls...and I'm gonna get drunk!!!" Can't argue with that cunning scheme. We'll just call you Machiavelli. So, Kat goes and gets drunk. Jibber-jabs with her cousin. Does whatever. Meanwhile, back at camp everyone's calling her an idiot and plotting to vote her out next. At least Kim and Alicia want to keep Kat, because no one on the jury will want to vote for a silly half-wit.
So then they go to the Immunity challenge. and Kat does about the worst thing she can do. She lasts an hour on an endurance challenge, longer than anyone else - except the winner, Kim. Now everyone knows she's a challenge threat. Then she whines and complains that Kim wouldn't let her win and refuses to accept a high five from the winner. So, challenge threat, selfish, whining, crybaby idiot. All of a sudden she's not looking like someone you really want to keep around. Even Alicia is flipping now and Kim's the only one who wants to keep her.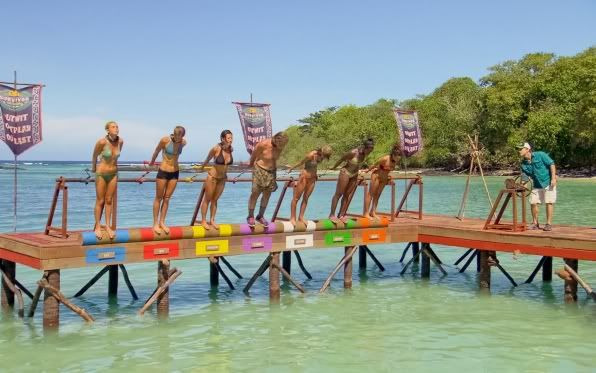 Which takes us to tribal council, which is all about Kat. It hurt her feelings, she says, to have to pick someone to go on the reward challenge. Because she didn't want to have to see their disappointed faces. (ironic that she didn't want TC to be all about her when everything else revolves around her). Anyway Probst wonders why she is such an idiot, is it because she's so young? Kat concurrs. She's young and dumb. So what? Give her a million dollars anyway. Chelsea, though says that 22 isn't really that young, so its not really an excuse. And I was looking back. You know who was 22? Sophie, who won last season. Todd, who won in China. Both smart strategists. Guatemala had Rafe, Brandon and Brian, all 22 and none of them using their youth as an excuse for stupidity. The vote is held and it turns out Kim relented and let Kat go in a blindside. After Kat said that blindsides were fun and exciting. Then she looked all stunned and then cried. And I'm not gonna lie, it was pretty fun, but really only because of what she said. I never really had anything against Kat. Other than she was an idiot. But she wasn't a mean spirited idiot. Just a regular idiot. She was upset she left before Christina and Tarzan, but so did some other players who were actually sort of good. And I don't really want an idiot to win. So, I'm satisfied. Good luck to you Kat. Grow up. Become smart. Well...good luck, anyway.
Cool beans. Or, alternatively, touche.
kungfuhippie@tvfunspot.com
For More Survivor: One World Island News visit:
SirLinksalot: Survivor: One World